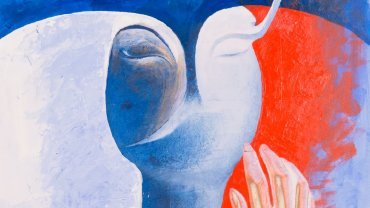 May 16 -
19:00
▶Performance and Installation by Marika Kandelaki.
▶Music by Voider (Nino Bozic, Ted Mineo, Marika Kandelaki).
▶Poem "Mama Hole" by Marika Kandelaki from Dictionary of the Hole, a collaborative project between Colleen Asper and Marika Kandelaki.
What does it mean to depict and represent something which is a negation? If woman is a structural category, what does it mean to represent this structure? Is she a place or a space? Does she have walls? Are her orifices windows? How many does she have? Can you walk through her like an arch? Or do you walk over her like an overpass? Is she a structure you want to live in? Or is she a volatile construct covered with a tarp? Does her interior catch crosswinds? Or is she a suffocating space with the windows shut? Is her facade raw concrete? Or is she finished with limestone and marble? Is there writing on her walls?
Woman is structure, but Mother is history.
▷ Marika Kandelaki is an artist originally from Tbilisi, Georgia and currently based in Brooklyn, NY. She is a multidisciplinary artist who mainly explores painting, sculpture, costume design and performance. She also works in video, propaganda work, writes, designs textiles and collaborates with Colleen Asper on Hole, an ongoing project focused of perverting patriarchal symbolic order, which has taken the form of Holes 123s (performances) and Hole ABCs (narratives).


www.marikakandelaki.com
Movement Theatre / მოძრაობის თეატრი
აღმაშენებლის გამზ. 182 / მუშთაიდის ბაღი